Our Philosophy: To generate impressive value in our grain products to promote the highest value in nutrition and healthy eating to our customers worldwide.
---
Fundamental Thoughts

The pursuit toward healthy living really took off in the United States in the early 1970's. And in that movement, the Japanese diet has been promoted as the "ideal" diet based on low fat and high nutritional value foods. Some of the MOST valuable dishes are based on a diet centering on healthy nutrition-dense grains.
Hakubaku, since its foundation in Japan, has been working on delicious tasting grains We keep striving to explore new possibilities of grains every day.
The Kokumotsu Company

What does Hakubaku mean?
"Hakubaku" means "White Barley" in Japanese. It describes Hakubaku's desire that our customers will enjoy nutrient-rich "Barley" in the same way as white rice, which is primary food in Japan.
Since the foundation, we have been deeply involved with 5 Grains; Barley, Rice, Millet, Wheat and Soba(Buckwheat). Our corporate logo expresses that 5 Grains, Barley, Rice, Millet, Wheat and Soba(Buckwheat) will spread worldwide thereafter.
"Kokumotsu" means "Grain" in Japanese. In view of our corporate history and our determination to keep providing the ideal diet, we define ourselves as "The Kokumotsu Company". We continue to deepen our knowledge on grains and realize "The Kokumotsu Company" through providing new innovations in grain products and processing technology.
The Staple Foods Frontier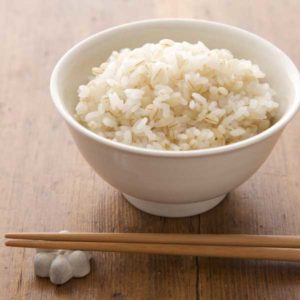 Meaning of Staple Foods Frontier is what we call our brand vision of creating impressive value in our grains as a staple food. We think it is absolutely necessary that we pioneer the possibility of grains as staple foods and create impressive value beyond just packing and processing to achieve our goal of providing an ideal diet.
We believe our mission is to do our best for staple foods and go beyond what is traditional. We are convinced you will see us as the pioneer after tasting our sensational grain, flour and noodle product lines. Hakubaku's focus on what makes a tasty and nutritious staple food makes us unique.
Shigetoshi Nagasawa, President
---
"We would like to promote healthy life of people through grain diet. To do so, we would need to deliver more tasty and easier-to-eat grain products."
That is why we create impressive value of in our grain products.
---
Our company name [Hakubaku] means white barley in Japanese. The name comes from the product called [Hakubaku mai], white rice shaped barley by removing the black crease running down the center of each barley grain in 1953 with the passion of company founder to promote nutritious barley rice and make it more enjoyable form.
We have been deeply involved with grains since then and through our 70 years of company history, Hakubaku has deployed its business into pealing barley, flours, noodles, barley teas and mixed grains.
Although grains are very important food for human beings, I feel the sense of appreciation toward grains has faded because they have become too common and ordinary.
I wonder and question if the current dietary trend in advanced countries is a right direction for human that richer dietary life leads to less consumption of grains. I believe bringing more grains to modern diet, having them eaten with more enjoyment would lead to healthier life and bring more smile.
To do so, at Hakubaku we strive to passionately create impressive value of grains. Impressive values of grain include taste, convenience, fun, unexpected quality and richness and move people's heart. It is our ultimate mission and sheer pleasure if we turn conception of grains being ordinary and common into beloved and essential part of diet by the values we create.
I can not stress enough that food is truly important to human beings in any eras of history, and among food grains are one of the most important. We feel happiness and responsibility to be involved in such important food through work, strive to face the challenge in creating values of grains, and continue to contribute to healthier life of people with smile in the world.
Our History and Legacy since 1941
---
History
| | |
| --- | --- |
| 1941 | Founded as Kyonan Seimai Co., Ltd on April 15th |
| 1953 | Names its revolutionary barley product "Hakubakumai" |
| 1957 | Changes the company name to Hakubakumai Co., Ltd., and builds the Osaka plant at Fukushima-ku Osaka |
| 1959 | Built up automated single noodle plant |
| 1961 | In response to increasing demand for flour, builds the Newmatic flour plant |
| 1962 | Builds a food plant (ramen noodle production) |
| 1966 | Builds a modern Hakubakumai plant equipped with Newmatic system |
| 1972 | Builds a natural barley tea production plant |
| 1941 | Builds a new factory at Osaka plant |
| 1975 | Builds new facility at Nakano plant for dried noodles with largest production capability in Japan |
| 1992 | Changes the company name to Hakubaku Co., Ltd. |
| 1995 | Inaugurated as "R&D Center" |
| 1998 | Begins operation of the Hakubaku Australia Plant |
| 2002 | Acquires ISO9001 certification |
| 2003 | Shigetoshi Nagasawa is assigned as President |
| 2004 | Acquires ISO14001 certification |
| 2006 | Launches VI / changes the corporate design "The Kokumotsu Company" |
| 2009 | Co-acquires a 1090 hectare farmland at Liverpool, Australia |
| 2011 | Begins operation of the new Barley Tea factory |
| 2012 | Establishes Tokyo Head Quarter office |
| 2013 | Acquires Food safety management system FSSC22000 on Barley Tea factory |
| 2014 | Acquire Chuo Factory |
| 2015 | Begins operation of the Hakubaku USA, Inc. |
---
---
---
---
---
---
OFFERS & RECIPES TO YOUR INBOX
Signup to be included for new product introductions and special offers only to our subscribers!