Create a refreshing and satisfying soba salad that stretches your budget by incorporating protein-rich Soba Salad with Protein-Packed Chickpeas. Combine cooked soba noodles with canned chickpeas, diced cucumbers, cherry tomatoes, and a handful of fresh herbs like cilantro and mint. Drizzle with a homemade vinaigrette made from pantry staples like olive oil, vinegar, and a touch of honey. This soba salad is not only easy on the wallet but also a delightful way to enjoy a nutritious meal.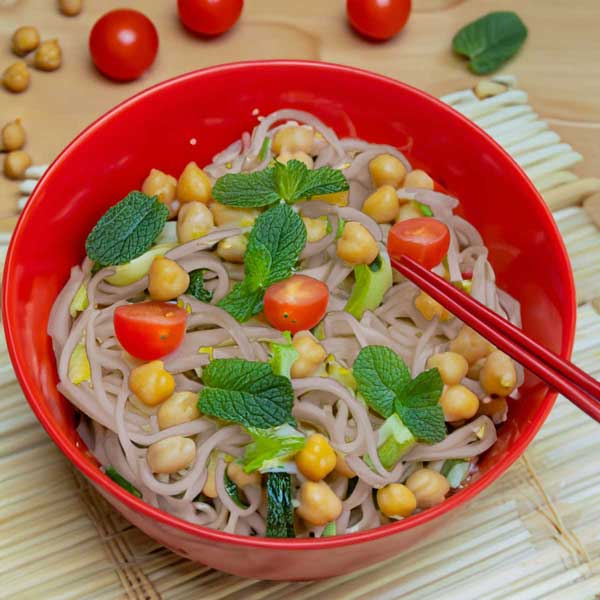 Ingredients:
For the Salad:
1 can (15 ounces) chickpeas, drained and rinsed
1 cucumber, diced
1 cup cherry tomatoes, halved
1/4 cup fresh cilantro leaves, chopped
1/4 cup fresh mint leaves, chopped
For the Vinaigrette:
3 tablespoons olive oil
2 tablespoons rice vinegar
1 tablespoon honey
1 teaspoon soy sauce
1 clove garlic, minced
Salt and pepper to taste
Instructions:
Cook the Soba Noodles:

Bring a large pot of water to a boil. Add the soba noodles and cook according to the package instructions (usually around 5-6 minutes).
Drain the noodles and rinse them thoroughly under cold water to stop the cooking process. Set aside.

Prepare the Vinaigrette:

In a small bowl, whisk together the olive oil, rice vinegar, honey, soy sauce, minced garlic, and a pinch of salt and pepper. Taste and adjust the seasoning as needed. Set the vinaigrette aside.

Assemble the Salad:

In a large mixing bowl, combine the cooked soba noodles, drained chickpeas, diced cucumber, halved cherry tomatoes, chopped cilantro, and chopped mint.

Add the Vinaigrette:

Pour the prepared vinaigrette over the soba noodle mixture in the bowl.

Toss and Coat:

Gently toss all the ingredients together, ensuring that the noodles, chickpeas, and vegetables are evenly coated with the vinaigrette.

Chill and Marinate:

Cover the bowl with plastic wrap or a lid and refrigerate the salad for at least 30 minutes to allow the flavors to meld and develop.

Serve:

Give the soba salad a final toss before serving to redistribute the flavors.
Divide the Soba Salad with Protein-Packed Chickpeas into individual serving plates.

Enjoy:

Serve the soba salad chilled and savor the refreshing combination of textures and flavors.
This Soba Salad with Protein-Packed Chickpeas is a fantastic option for a budget-friendly yet nutrient-rich meal. The combination of soba noodles, chickpeas, fresh vegetables, and the zesty homemade vinaigrette creates a well-balanced and satisfying dish that's both delicious and nutritious.