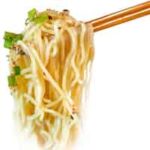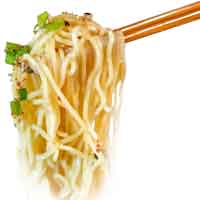 Light, flavorful, and colorful Malaysian Ramen Noodle Salad is always a hit.
Imagine al dente ramen noodles with shredded cabbage, and carrots, in a tangy, sweet, and mildly spicy dressing of Japanese ponzu, sesame oil, honey, and Thai sweet chili sauce. The only cooking you really have to do is cook the ramen noodles.
It's a light and healthy salad when cooking is just not on the menu. Great for spring and summer.. or served at a picnic as the noodles will take on the flavors of the dressing at service.

Ingredients for Malaysian ramen noodle salad
1

cup

shredded cabbage

1/4

cup

shredded purple cabbage

2-

inch

carrot, peeled and cut into matchstick strips

Chopped scallions

1/4

teaspoon

white and black sesame seeds
Dressing:
1 1/2

tablespoons

Japanese ponzu

1

tablespoon

Thai sweet chili sauce

1

tablespoon

honey

1/2

teaspoon

sesame oil

1/4

teaspoon

white and black sesame seeds
The goal here is to create a spicy/savory/sweet sauce. You can use soy sauce, chili sauce, and honey instead if you have it.
Instructions
Bring water to a boil and cook the ramen for about 2 minutes or until al dente. Drained and set aside, let cool.

Mix all the ingredients of the Dressing in a small bowl, and set aside.

Transfer the ramen to a salad bowl and toss with the shredded cabbages, carrot, and the Dressing with a salad tong.

Garnish with chopped scallions and sesame seeds. Serve cold.
---
Want more recipes and ways to use this product? Signup today!