Authentic Japanese Ramen Noodles Kaedama 8pk
$19.49
Authentic Japanese Ramen for soup or stir-fry

Enjoy Handmade Taste from Japan

Other uses:

Kaedama (second helping of ramen noodles for your soup)

Brothless noodle dishes

Cooking: Place into boiling water for 2:00 minutes for "al dente".  For more tender noodles boil additional 30 seconds.


8 Easy-to-use (3.5oz) noodle packs.

Each individual serving is 3.5 oz.
Pack Count:

8 pack
In Stock!
Description
Authentic Japanese Ramen Noodles from Japan. Enjoy ramen-restaurant taste at home!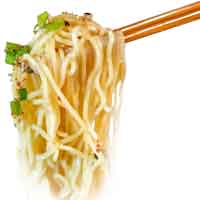 Authentic Japanese Ramen noodles are non-fried and made without artificial chemical preservatives.  Hakubaku ramen noodles are made in the traditional style: using egg whites and KANSUI (Sodium Carbonate) for an authentic full-body texture. Dried and never fried, these noodles are soft and ready to use in your next recipe.
Traditional noodles with a wavy shape catch just the right amount of soup.  Our Ramen Noodles 8-pack (28.2 oz) individually packed in 3.5 oz. pouches. Packs are pantry shelf-stable and convenient in any kitchen! Enjoy ramen-restaurant taste at home tonight.
Traditional taste, Soft, Non-fried, No Artificial Chemical Preservatives
Made in Japan by noodle experts
Egg white and KANSUI (Sodium Carbonate) for authentic flavor and texture.
Wavy-shaped noodles hold just the right amount of soup.
Made without chemical preservatives
Noodles are shelf-stable & need no refrigeration
8 noodles packs in storage pouch: Each pack = 3.5 oz.
What is Kansui? – Ramen history in every noodle.
The kansui is the distinguishing ingredient in ramen noodles and originated in Inner Mongolia, where some lakes contain large amounts of these minerals and whose water is said to be perfect for making these noodles. Noodles with kansui have a yellowish hue and a firm texture. Hakubaku has years of experience making delicious ramen noodles, soba and udon in Japan.