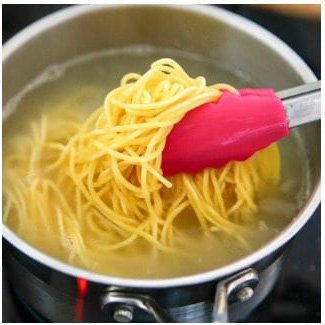 Korean Rabokki sweet and spicy ramen recipe is a combination of the words for Ramyeon (라면, instant ramen noodles) and Tteokbokki (떡볶이, Korean spicy rice cakes). We actually prefer Rabokki more than Tteokbokki as there are more interesting and delicious additional ingredients in it. A favorite after-school dish among Korean high school students,  this dish is essentially Korean ramen and Tteokbokki fused into one dish.
If you like Traditional Tteokbokki, you'll love this variation! For this recipe, we experimented to find a good spice level. A good balance between spicy and sweet. That way, you don't sweat through your t-shirt. But spicy enough to keep you happy and coming back for the next bite.
Ingredients for Korean Rabokki
2 packages Hakubaku Ramen noodles |  BUY NOW>>
4 cups chicken stock
3 Tbsp Gochujang
1 Tbsp red pepper
2 Tbsp sugar
6 ounces of fish cake
1⁄2 cup thinly sliced cabbage
3 sliced green onions with white and green parts separated
1 carrot, shredded
2 hard-boiled eggs

For serving: Sesame seeds
Instructions for Korean Rabokki
Prep Ingredients
Pull apart the rice cake from each other. Loosely fill 1 cup.

Cut fishcake into small bite-size pieces. Loosely fill ½ cup.

Chop the spring onion into small slices. Cut onion into thin strips.

Chop onions
Cut rice cake into chunks

Hard boil 2 eggs. Peel and set aside.
Make the Rabokki
Take out a pot. Place fish cakes and rice cakes in. Then pour 2 cups of water into the pot.

Add sugar and honey into the pot. Place stove on medium-high heat. Bring the pot up to a boil.

Once the pot comes to boil, add in soy-sauce, gochujang, gochugaru.

Then add in the onion slices and the ramen noodles.

Let it boil for 1-2 minutes.Add in the hardboiled eggs. Take off heat.

Plate and garnish with spring onion.
Notes
Feel free to add more rice cakes if you like
Freeze leftover rice cakes in the freezer