Making  Men Tsuyu (Udon and Soba Soup Base) from scratch
by Hakubaku Staff
A classic recipe that is enjoyed with soba noodles (and some udon) is called Men Tsuyu – Udon and Soba Soup Base. Why buy from a bottle the market when it's so easy you can make it from scratch?
More Americans are being more adventurous with their home cooking according to Instacart.  Maybe that's why we were surprised to find katsuobushi (Bonito Flakes) at our local grocery store. Usually, we only see it at a specialty Asian grocery, but you can find it in some major chain stores too! Bonito flake is a key ingredient to making Men Tsuyu from scratch and is also used in other traditional dishes like Okonomiyaki.
Be adventurous with this recipe, toppings, and spices as there is not just one way to prepare this generations-old recipe. Men Tsuyu is the basis of so many soba and udon dishes served in restaurants in Japan and here in the US! So enjoy a soba restaurant experience at home tonight!
Men Tsuyu Udon and Soba Soup Base
(2-4 servings), 10 minutes
Ingredients
1 bunch of Premium Salt-free Soba BUY NOW>>
4 cups of water
50 grams of Bonito Flakes
1/2 cup of Shoyu (soy sauce)
1/2 cup of Mirin
1/4 cup of Sake
Directions
1.  Mix all into a soup pot. Start heating and when it starts boiling, turn off the heat.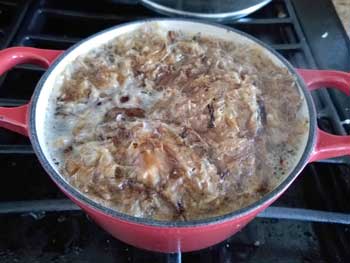 2. Let it cool until bonito flakes settle to the bottom of the pan.
3. Use a strainer to remove bonito flakes, and your soup is done.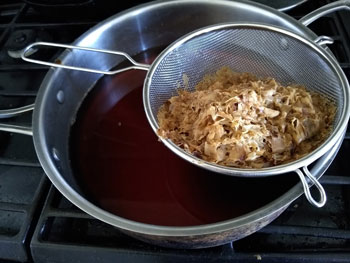 4. Transfer the men tsuyu to the refrigerator to chill or even add a few ice cubes when you eat. It is a very refreshing noodle dish and perfect for summer.
From the Kitchens of Hakubaku USA
---
Want more recipes and ways to use this product? Signup today!