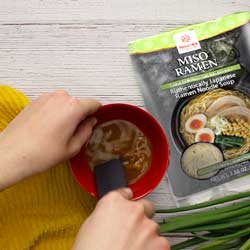 Prepare to ignite your taste buds with our sensational recipe for Spicy Miso and Charred Corn Ramen. This dish takes the comforting embrace of miso ramen with some great layers of flavor by infusing it with a fiery twist and the delightful smokiness of charred corn. Brace yourself for a flavor explosion that will leave you craving more. This recipe can be made into vegan ramen by using vegetable broth.
TIP: you may want to use some Roasted Corn from Trader Joe's as a quick filler for step 4.
Serves: 2
Time: 15min
Ingredients:
2 packages of Hakubaku Miso Ramen
2 cups chicken or vegetable broth
2 cups water
2 tablespoons soy sauce
1 tablespoon gochujang (Korean chili paste)
2 teaspoons sesame oil
1 teaspoon grated ginger
2 cloves garlic, minced
1 cup corn kernels, fresh or frozen
2 green onions, thinly sliced
1 tablespoon toasted sesame seeds
1 tablespoon vegetable oil
Salt and pepper to taste
Instructions:
In a large pot, bring the chicken or vegetable broth to a boil over medium heat. Add packets of miso soup mix.
In a small bowl, whisk together the soy sauce, gochujang, sesame oil, grated ginger, and minced garlic until well combined.
Reduce the heat to low, then add the miso mixture to the pot of broth. Stir well to ensure it is fully incorporated. Simmer for 10-15 minutes to allow the flavors to meld together.
While the broth is simmering, heat a skillet over medium-high heat. Add the vegetable oil and swirl to coat the pan. Add the corn kernels and season with salt and pepper. Cook for 5-7 minutes, stirring occasionally, until the corn is charred and slightly caramelized. Remove from heat and set aside.
In a separate pot, cook the ramen noodles according to the package instructions. Drain and set aside.
Divide the cooked ramen noodles into serving bowls. Ladle the spicy miso broth over the noodles.
Top each bowl with the charred corn kernels, sliced green onions, and toasted sesame seeds.
Serve the Spicy Miso and Charred Corn Ramen piping hot and enjoy the explosive flavors that will awaken your palate.
Prepare to be captivated by the fiery and smoky elements of this delightful ramen creation. The combination of spicy miso broth, tender ramen noodles, and charred corn will transport your taste buds to new culinary heights. Get ready to savor the Spicy Miso and Charred Corn Ramen, a bowl of pure fiery bliss.