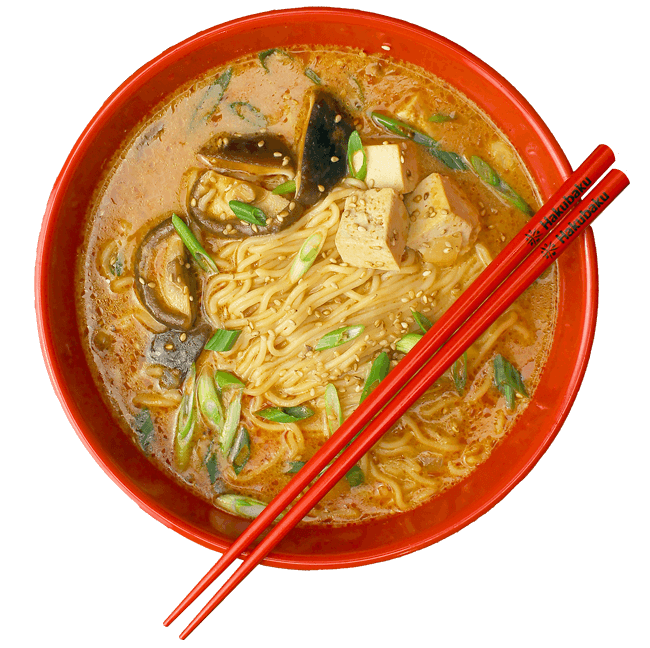 Ignite your taste buds with an unforgettable fusion of flavors in our Spicy Thai Curry Peanut Ramen recipe. This delectable dish marries the bold and aromatic spices of Thai curry with the creamy richness of peanut sauce, resulting in a tantalizing bowl of ramen that will transport you straight to the vibrant streets of Thailand. Get ready to embark on a culinary journey that will leave you craving the exotic blend of Thai and ramen flavors.
Ingredients:
2 packs Kaedama ramen noodles
4 cups chicken or vegetable broth
2 tablespoons Thai red curry paste
1/4 cup creamy peanut butter
2 tablespoons soy sauce
1 tablespoon honey
1 teaspoon grated ginger
2 cloves garlic, minced
1 cup sliced mushrooms
1 cup sliced bell peppers
1 cup bean sprouts
Fresh cilantro, for garnish
Lime wedges, for serving
Instructions:
In a large pot, bring the chicken or vegetable broth to a boil over medium heat.
In a small bowl, whisk together the Thai red curry paste, creamy peanut butter, soy sauce, honey, grated ginger, and minced garlic until smooth and well combined.
Reduce the heat to low, then add the peanut curry mixture to the pot of broth. Stir well to ensure it is fully incorporated. Let it simmer for 10-15 minutes to allow the flavors to meld together.
Meanwhile, prepare the ramen noodles according to the package instructions. Drain and set aside.
In a separate pan, sauté the sliced mushrooms and bell peppers until they are tender and slightly caramelized.
Divide the cooked ramen noodles into serving bowls. Ladle the flavorful peanut curry broth over the noodles.
Top each bowl with the sautéed mushrooms, bell peppers, and bean sprouts. Garnish with fresh cilantro.
Serve the Spicy Thai Curry Peanut Ramen with lime wedges on the side for an added burst of citrusy freshness.
Get ready to delight your senses with the harmonious combination of Thai curry and peanut flavors in this remarkable bowl of ramen. Indulge in the richness of the peanut-infused broth, the tender noodles, and the vibrant assortment of vegetables. Allow yourself to be transported to the bustling streets of Thailand as you savor each spoonful of this Thai Curry Peanut Ramen.