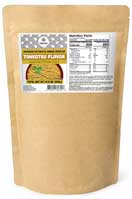 Japanese fusion is all the rage. Spicy Tonkotsu Miso Ramen with Hakubaku Authentic Japanese Tonkotsu Noodle Sets will get the party started!  Our shortcut uses our Tonkotsu soup stock for authentic taste and fresh chashu pork. If you want to make Chashu pork- you can view it here.  For the less adventurous- cook some sliced pork in the pan.
The key here is using Miso paste to get the flavor you want. You can get most of this at your local grocery store.. but if you live far from one- amazon is your best bet.
Yeah.. this recipe may be a lot more work than throwing everything in one pot.. but the end dish is truly delicious and savory, with just the right amount of heat to kick your tastebuds into high gear.
Makes 4 servings.
---
Want more recipes and ways to use this product? Signup today!