Kisoji Ontake Soba Authentic Japanese Buckwheat Noodles, 7oz
$3.39
Made in the Kaida Highlands (Nagano Prefecture) in Japan, well known for one of the best water for noodle production

Made of stone-milled buckwheat for authentic flavor and taste

Each strand of noodles are different in shape and thickness to create a full-bodied texture

Net weight: 7 oz (200g)/packet

Cooks in 4 minutes
In Stock!
Description
Japanese buckwheat soba noodles.
Produced in the hand-crafted style so that every noodle is slightly different from the next. Japanese Authentic Soba Noodle enjoyed for generations. Japanese buckwheat Soba noodles have a long history in Japan and are part of a healthy Japanese diet.
Kisoji Ontake Soba uses stone-milled Japanese buckwheat flours for the authentic taste and flavor of Soba. Hakubaku artisan production produces each strand of noodles to be different in shape and thickness that creates traditional full-bodied texture. It is made in the Kaida Highlands (Nagano Prefecture Japan), well known for using one of the best water for noodle production.
Check out our recipe section for more meal ideas.
Cooking instructions: Add 7oz (100g) noodles to 50 fl oz (1.5L) boiling water. Cook 4min for hot dishes, 5min for cold dishes. For cold dishes, drain- then rinse in cold water, drain again.
---
Make This Recipe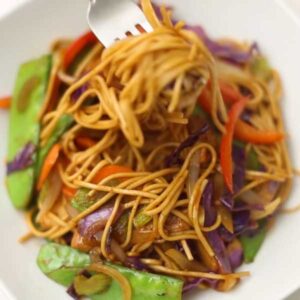 Soba noodles are a quick substitute for the rice, and we really like the crisp-tender bite from fresh broccoli and a package of coleslaw mix. Made with a mix of wheat and buckwheat for more protein in this dish than is typical. Soba also offers a tasty chew to the dish and flavor. CLICK HERE>>