Our spicy pork with noodles is an easy-to-prepare meal packed with lots of Asian flavor from garlic, chili bean sauce and ginger. Quickly stir fried in a pan or wok, it's our latest favorite recipe to whip up when something spicy and flavorful sounds enticing, on the table in under thirty minutes!
Spicy Pork with Noodles, a Quick and Delicious Asian Noodle Dish
Soba noodle dishes packed with the aromatic flavors of chili bean sauce, garlic and ginger are some of my most beloved kinds of dishes to enjoy.
Tender yet slightly chewy soba noodles stir-fried together with a little bit of spicy pork are our latest crave-worthy favorite, and the beauty of a dish such as this is how quick and simple it is to prepare.
It's ideal for a weeknight (or any night!) when you're hungry for something warming and flavorful, yet don't necessarily have it in me to stand at the stove cookin' up a storm! Prepare the items in advance as the cooking process is the shortest part.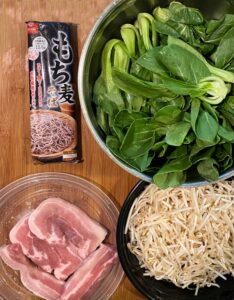 Ingredients (serves 4-6 people), 30 min
1 pack of Pearled Barley Soba noodles

1 lb of pork belly sliced




1

tablespoon

ginger,

freshly grated

1 bulb garlic chopped
1/4c Onion chopped
3 tblsp ginger
Sauce
1/2c  soy sauce
1/2c  sesame oil
1/2c  sweet rice vinegar
4 tblsp sugar
4 tblsp Mirin
3 tblsp Chili Bean Sauce (or to taste)
2 tblsp corn starch w. 1 tblsp  water
2 tblsp garlic powder
Extra sesame oil for frying
1 package bean sprouts, washed
1 lb baby bok choy
Instructions
In a large pan or wok on high heat –  add 1/4 cup sesame oil and 3/4 of the chopped garlic and onion, and let the garlic brown slightly. Onions should be translucent.
Add pork and stir constantly to cook fully. Once the pork is almost cooked, add in 1/3 of the sauce. Stir constantly until the pork is fully cooked. Set cooked pork aside. Leave the drippings.

In the same hot pan on high heat,  add 1/4 cup of water to deglaze the pan. Once bubbling, lowe heat to medium high,  add the baby bok choy, another 1/3 of the sauce, stir to get all ingredients coated,  and cover.
Let cook for 3-4min or until the leaves wilt. Remove lid and stir so all items are coated. Cook another 1-2 min with lid off.

Turn up the heat to high, and add back the pork with the cooked bok choy, add in the bean sprouts and stir constantly. Add in the rest of the sauce.
Keep stirring until all items are covered and bean sprouts get slightly translucent. Turn heat to low.

Get the noodles ready:
In a separate pot boil water and cook soba noodles as per package instructions. Rinse with cold water.

To Serve:
Put a portion of soba noodles at bottom of a bowl, and add stir fry on top. Garnish with green onion (optional) or sesame seeds.

ENJOY!