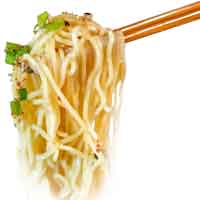 Sriracha Chicken Ramen Noodles use our Shoyu Ramen Noodle Soup kits.  This recipe is SUPER simple and so good.
Sriracha Chicken Ramen Noodles makes 2 servings and takes only 10 minutes on the stovetop.  This recipe only has 6 ingredients – Chicken, ramen noodles, brown sugar, soy sauce, sriracha, and peanuts. Garnish with green onions. Great way to use up leftover chicken! Can add broccoli, green beans, or asparagus.
Use our Shoyu Restuarant Fresh ramen noodle kit and use the soup stock in place of the soy sauce for more flavor.
---
Want more recipes and ways to use this product? Signup today!